Yesterday I had the opportunity to venture slightly outside of my comfort zone and meet some new (and pretty amazing) people. I attended my first blogger meet-up as part of the PA Bloggers Group. This group brings together local bloggers in Pennsylvania-allowing them to meet and connect in person. You can check out the group's Facebook page for more info here.
Stephanie from The Event Crashers planned this month's meet-up hosted at the Hershey Hotel. During the month of February the Heshey Hotel is celebrating all things-chocolate as part of their Chocolate-Covered February promotion. This particular weekend the hotel hosted a deomonstration by Chef Mario who taught of group of individuals how to infuse chocolate into a variety of foods. The chef demonstrated how to prepare a variety of foods, including recipes for chocolate pecans, saald with a vinaigrette dressing, and cocoa-braised lamb. The chef took his time during the demonstration to explain things clearly and answer any questions from his audience. He explained that his recipes are quite often "trial and error" in order to figure out what works and what doesn't while cooking.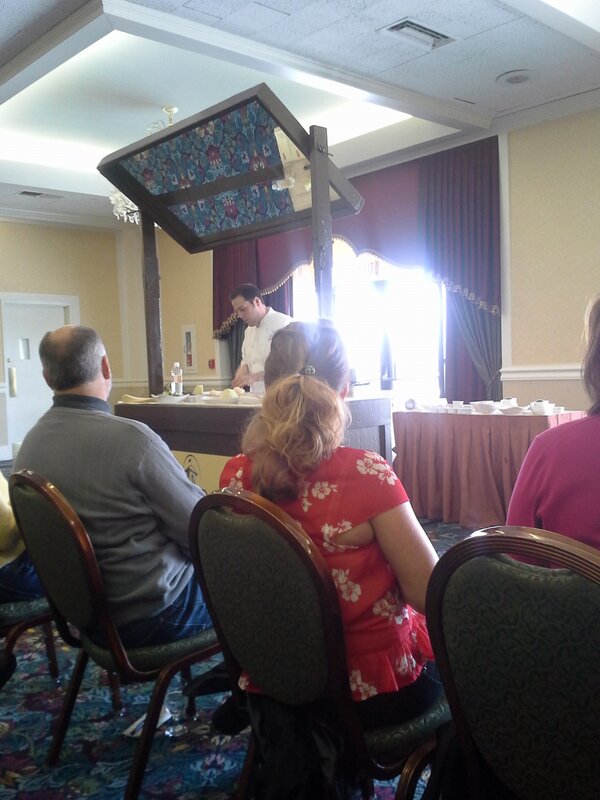 Following the chef's demonstration we were all able to taste-test the items prepared which proved to be just as delicious as predicted. After the formal part of the demonstration was over the chef was nice enough to talk with some of the bloggers more in detail about his experience. He even agreed to take a picture with the group in attendance (picutred below and taken from Stephanie)! The event was definitely a fun and interesting way to spend a Saturday morning. Following the demonstration all of the bloggers enjoyed coffee (and some sweet treats) inside the hotel at the Cocoa Beanery. Time flew by as we discussed our blogs, food, running, and other details about our lives. Even though I went in not having met any of the bloggers in person before, I left feeling like I knew a little bit more about each of them. It's funny how easy it felt chatting and spending time with the ladies in attendance!
Be sure to check out the Hershey Hotel's website for more information on Chocolate-Covered February events. I will also link-up to the other blogger's posts as soon as they beocome available!